Rebecca S. Evans, DDS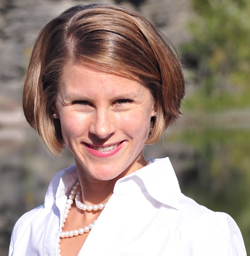 Dr. Rebecca Evans grew up in Glenville, NY, attending Burnt Hills-Ballston Lake High school. As a youngster, Dr. Evans was always fond of watching her Dad provide dental treatment and care for patients, which inspired her to be the second generation of her family to become a dentist.

Dr. Evans graduated summa cum laude from Quinnipiac University with a degree in Biology and a minor in Spanish. At Quinnipiac University, she was the founding member of the Beta Beta Beta biological honor society and earned the honorary award for academic achievement in biology. She was also on the National Deans List and recognized by the Who's Who of College students. Dr. Evans published several articles with her colleagues based on the research in which she participated.

Upon graduation from college she attended the State University of New York at Buffalo School of Dental Medicine graduating magna cum laude. She earned the Lasher Award and Tucker Scholarship both based upon academic excellence. Additionally, she was honored with the American Academy of Oral Medicine Award for her accomplishments and proficiency in field of Oral Medicine. Lastly, she was presented the Harvey D. Sprowel award due to her "genuine concern for patients that went above and beyond the call of duty". Her post-doctoral education continued in a one year General Practice Residency program at Ellis Hospital, where she had an opportunity to enhance her interest in implant restoration, operating room cases and esthetic dentistry.

Dr. Evans lives with her husband and young children. In her free time, she enjoys reading, gardening, cooking and sewing.