Our Services
From cosmetic dentistry to full-mouth rehabilitation, our practice is equipped to handle all of your dental needs. To help you understand more about our office, we have included brief descriptions of some of our most common services on this page.
Initial Oral Examination
Your first visit at our office is very important in establishing your oral health baseline. We will perform a complete oral examination which includes an oral cancer screening, periodontal evaluation, an analysis of your occlusion (bite) and a thorough examination of your teeth, their supporting structures and of the oral anatomy.
The Preventive Program
Both natural teeth and teeth with restorations survive best in an oral environment that is clean and where proper oral hygiene is maintained. Our dental hygiene program is designed to help prevent new cavities, preserve teeth that have been restored and manage periodontal disease. At the initial visit with our hygienist, oral hygiene instructions are reviewed and are reinforced at subsequent recall visits.
Dental Fillings
Traditional dental restoratives, or fillings, include gold, amalgam, porcelain, and composite. With the advent of the newest technologies in dental science, today's state-of-the-art restorative materials include ceramic and the latest composite materials. These materials are not only strong and durable, but restore the look of natural teeth and are very aesthetically pleasing.
Crowns & Caps
The terms dental crowns and caps are synonymous. Crowns are typically used to restore a tooth's function and appearance following a restorative procedure such as a root canal. When decay in a tooth has become so advanced that large portions of the tooth must be removed, crowns are often used to restore the tooth. Crowns are also used to attach bridges, cover implants, or to prevent a cracked tooth from becoming worse. Crowns also serve an aesthetic use, and are applied when a discolored or stained tooth needs to be restored to its natural appearance. Crowns are fabricated in a laboratory and are made either of porcelain baked onto a metal substrate, all-porcelain, or many of the new ceramic materials that have been developed.
Bridges & Dentures
A bridge may be used to replace missing teeth, help maintain the shape of your face, and alleviate stress on your bite. A bridge replaces missing teeth with artificial teeth, looks great, and literally bridges the gap where one or more teeth may have been. Your bridge can be made from gold, alloys, porcelain, or a combination of these materials and is bonded onto surrounding teeth for support. There are two basic types of bridges. A fixed bridge which remains in your mouth at all times and is supported by your natural teeth. Removable bridges (partials and full dentures) are removed from the mouth several times a day for cleaning and rest on the gum where the missing teeth are being replaced.
Pediatric Dental Care
We take pride in creating and maintaining beautiful and healthy smiles for our younger patients in an environment that is lighthearted and fun. We focus on establishing oral health habits that last a lifetime, with education and prevention as our primary tools.
Teeth Whitening
Our in-office state-of-the-art bleaching system will make your teeth whiter and brighter. You may also use our take home bleaching system to achieve a brighter and whiter smile in a matter of days.
Root Canal Treatment
Root canal therapy is needed when the nerve of a tooth is affected by decay or infection. This simple treatment can save your natural teeth and prevent the need of dental implants or bridges. Symptoms of the infection are generally acute dental pain or sensitivity to hot, cold or percussion. If you experience any of these symptoms, your dentist will most likely recommend root canal therapy to eliminate the diseased pulp. This injured pulp is removed and the root canal system is thoroughly cleaned and sealed. This therapy usually involves local anesthesia and may be completed in one or more visits depending on the treatment required.
Veneers
Gaps, chips, stains, or misshapen teeth can now be treated with wonderful results and very conservatively using porcelain veneers. Veneers are natural in appearance, and are a perfect alternative for patients wanting to make minor adjustments to the look and feel of their smile. Veneers are thin, custom-made shells made from tooth-colored materials (such as porcelain) designed to cover the front side of your teeth.
Invisalign Orthodontic Retainers
The Invisalign System combines advanced 3-D computer graphics technology with 100-year-old science of orthodontics. Invisalign aligners are designed to move your teeth in small steps to the desired final position prescribed by your dentist. Each aligner is precisely calibrated and manufactured to fit your mouth at each stage of the treatment plan. Your first step is to visit our office to determine if Invisalign is right for you. After sending precise treatment instructions, Invisalign uses advanced computer technology to translate these instructions in a sequence of finely calibrated aligners — as few as 12 or as many as 48. Each aligner is worn for about two weeks and only taken out to eat, brush and floss. As you replace each aligner with the next, your teeth will begin to move gradually — week-by-week until the final alignment prescribed is attained. Then you'll be smiling like you never have before!
Night Guards
If you grind your teeth while you sleep, a bite guard can reduce symptoms of TMJ problems. We custom make mouth guards in both soft and hard materials.
Sleep and Snoring Therapy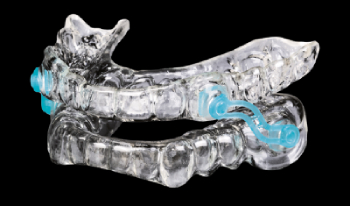 Achieve a deeper, more satisfying night's sleep with a mandibular advancement appliance. The Sleep Appliance is flexible, thin and comfortable, and it exhibits documented clinical success in mitigating or preventing the disruptive, unhealthy effects of snoring and mild sleep apnea. The appliance is designed to gently shift the lower jaw forward in a therapeutic position during sleep, which activates the airway muscles and ligaments to prevent the airway from collapsing. We most frequently prescribe the Silent Nite appliance, due to the 20 years of clinical data that supports its success. As with any medical diagnosis, a diagnosis of sleep apnea requires evaluation by a certified sleep specialist.